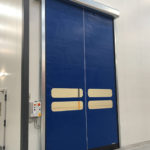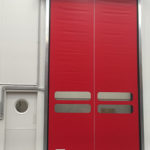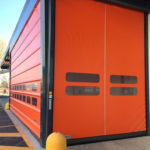 High speed doors
In every company building you see a constant flow of people and goods. In order to optimize this flow a high-speed door can help in two ways:
high-speed doors improve hygiene and air quality
high-speed doors ensure substantial energy savings
BMP high-speed doors are often used in the following logistics situations:
Distribution centers

Cold rooms and freezer rooms Shop premises

Food industry

Hygienic spaces
A BMP high-speed door is flexible and will not easily have damages. Expensive repair work that is time-consuming can be avoided. In addition, the flexibility of high-speed doors also ensures better safety for people.
Which high-speed doors for which branches?
Are you searching for high-speed doors for a company in the food industry? In that case you should consider the Dynamicroll Food Inox or the Dynamicroll Cleanroom. Both high-speed doors have standard stainless steel covers over the roll and motor to keep the room as sterile as possible.
For cold rooms like cold stores and freezers, we offer the Dynamicroll Frigo 1 and 2 with a curtain up to 18 mm thick. Whatever high-speed door you choose, both speed doors are equipped with heated side guides and motor. Also, the cover protects these parts from ice and snow.
Some places require transportation from inside to outside or vice versa. For example: halls where ships are built, aircraft hangars and other spaces where larger goods have to be moved. For this, wind resistance is very important and we offer the Megapack, which closes openings up to 35 by 30 meters.
Various requirements require customer specific speed door solutions. Do you want a price for one of our high-speed doors or a price for a complete project? Please feel free to request an offer.